La mémoire des fleurs.
Aurélie is a qualified journalist and a self-taught illustrator.
She lives in Paris and is a self-proclaimed 'slasher' which means she works on several projects at the same time, they could seem very different from each other but put together they enhance her creative content.
"In 2012 I created a web magazine about music, in 2015 I moved to Budapest for a while and now I feel like I'm burning to do something with my own hands, while continuing to travel"
Inspired by flowers from her illustration to her journalist articles, it is a source of memories and inspiration for her.
Working with different techniques such as linocut, digital illustration, dry and pressed flowers, she develops steps by steps her creative universe.
_Working with Aurélie
FR / J'avais envie d'évoquer la mémoire à travers différentes choses en commençant ce chapitre. Je crois que chacune de ces choses construisent petit à petit notre univers créatif intuitif.
Aurélie aime les fleurs, et j'aime ce qui se dégage de ces fleurs. Un parfum de vacances d'été à l'ombre d'un arbre, quelque chose de très nostalgique.
Aurélie, c'est un mélange de plein de chose très différentes, de talents différents déjà: le journalisme, l'illustration, un savoir surprenant autant en papillons qu'en musique. Une véritable touche à tout.
Un parcourt atypique, du journalisme à l'illustration en autodidacte qui inspire.
photoshoot by Lively studio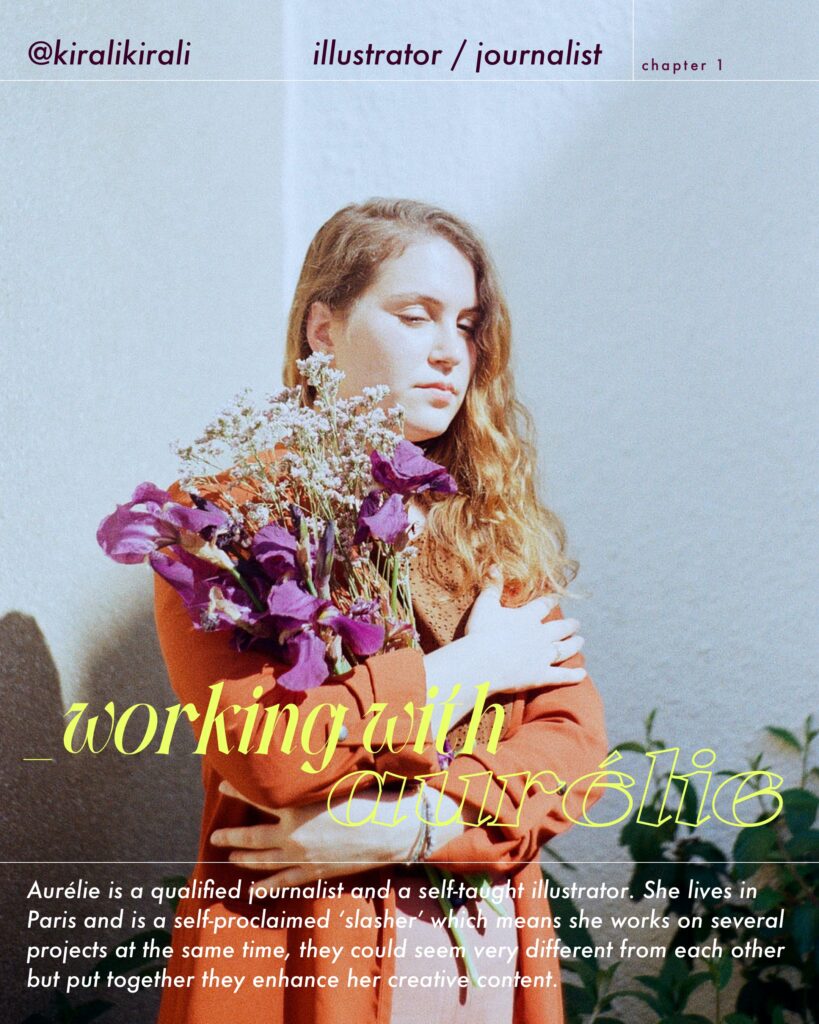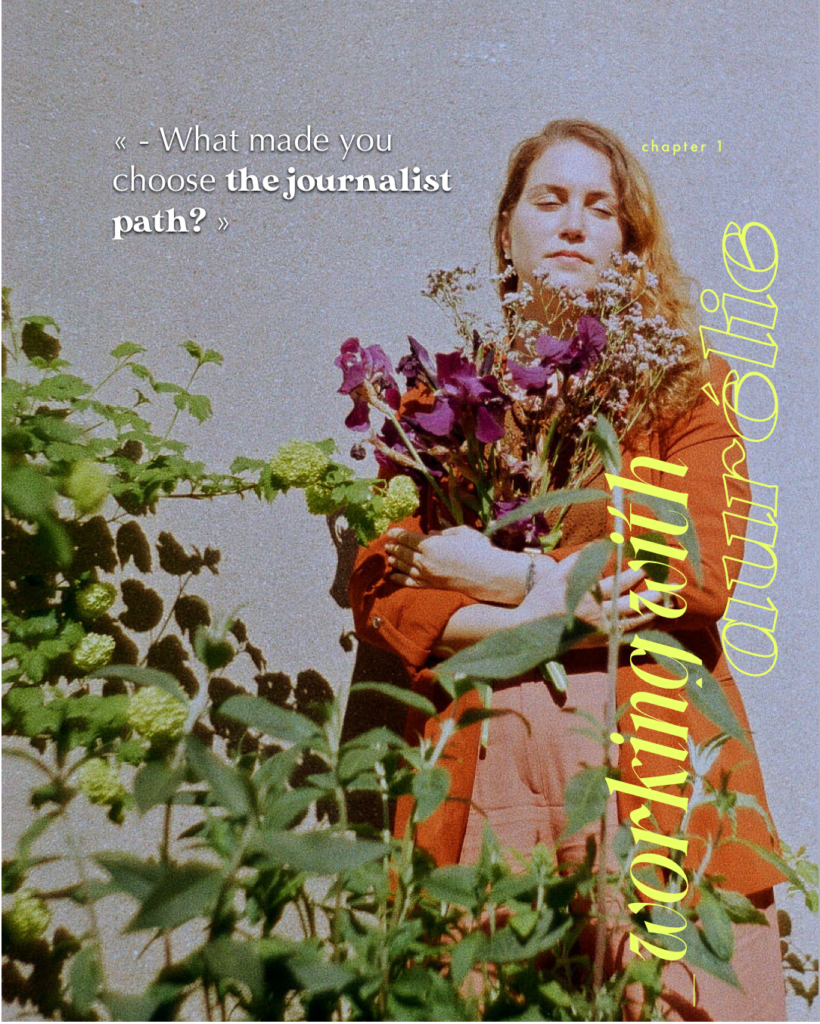 Memory of flowers
_talking with Aurélie @kiralikirali
What made you choose the journalist path?
« As a teenager, I devoured interviews in rock magazines and I quickly realized that if I too wanted to meet my idols and ask them the questions I had on my heart I realized the only way was to become a journalist. » 
What drove you to adopt a different expression now?
« I think I have suppressed my creative side of myself for too long. 
When I was younger, I spent a lot of time watching my talented grandmother painting her canvases.
My meeting at 18 with the one who shares my life today, then a student in an art school, makes me see things from a new angle: I am fascinated, but it is still not for me. 
Three years after my graduation in journalism, I feel my career is lacking something, a suffocating feeling came: not being able to flourish in only one means of expression which is writing… This is when I started to draw. »
Which aspect of your background in journalism/history informs your opinion today in this new passion?
« Thanks to my training in journalism, I firmly believe that I can get in touch with anyone. It's a background that gives me confidence and allows me to repeat a mantra that 'nothing is impossible' because if I told my teenage self, sitting in my bedroom listening to my favorite bands at full blast that one day, they would answer my microphone I probably wouldn't have believed it. » 
How do you learn new creative techniques? like dried flowers and linocut
« I watch a lot of tutorials on YouTube for tablet drawing techniques. For Linocut, I observed the work of Ishtar Oliveira and my friend Marion Marty (now a ceramicist) I fell in love with this technique, which I then groped into. I also really like to surround myself with beautiful books on techniques and color which I thoroughly enjoy when I have time. »
What would you like to learn or explore?
« I have wanted to try screen printing for a while now, which I see as an extension of linocut print making. I also really want to try the cyanotype which is a technique that I find extremely poetic and reminds me of the vintage side of Polaroids. »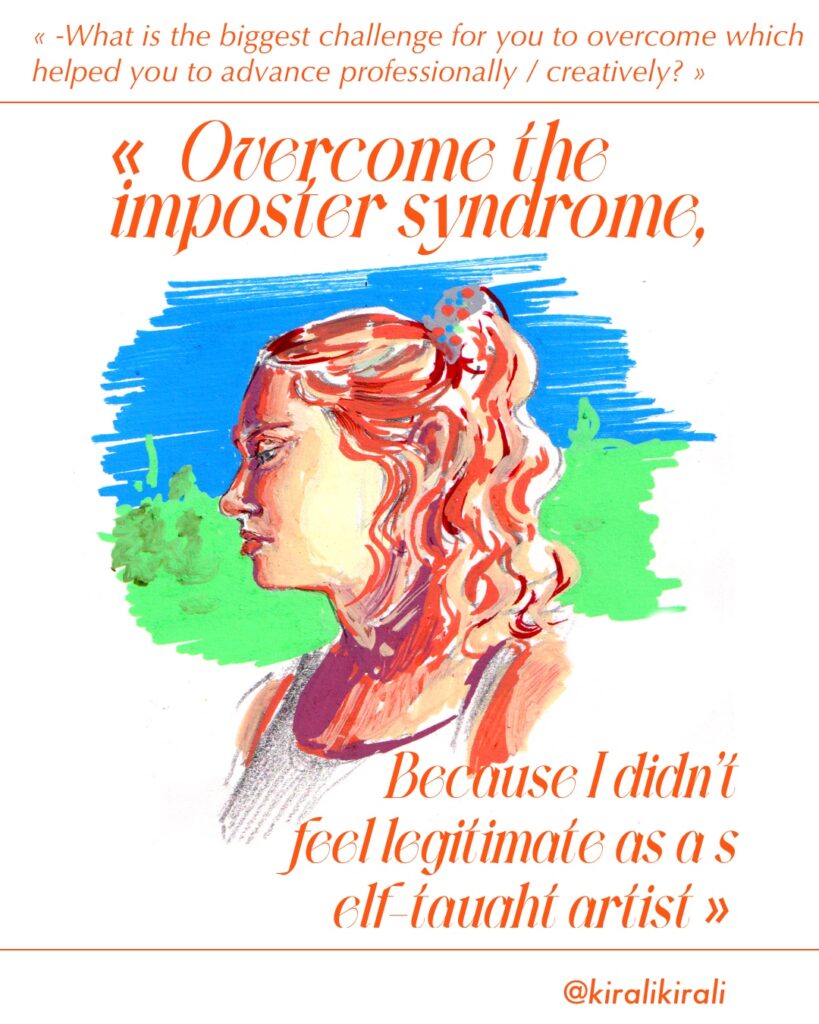 A dream project to achieve?
« A project that would combine journalism, illustration and travel! »
What part of your story has marked your creative world today?
« My childhood, that's for sure. A lot of time spent in the garden observing and playing with plants and also watching my grandmother paint. »
What is / was the biggest challenge for you to overcome which helped you to advance professionally / creatively?
« Overcome impostor syndrome because I didn't feel legitimate as a self-taught artist. »
Why are flowers your favorite theme?
« Because it is a poetic symbol of life, they do not live as long as we do, but their life is a metaphor for ours. They also have a multitude of shapes and colors and at the same time a scent, they have no real reason in nature to be so aesthetically pleasing and that is what makes them so magical to me. »
Can you pick an artist, artwork, book… to quote on the theme of the flower?
« Sonia Cavallini, a Parisian illustrator whose flowery patterns I love. I also love the delicacy of Laura Hatfield (Laura Makes) flowers.
On another note, I really like the way the Douanier Rousseau represented the plant world. »
An artist or person: who inspired you / or deeply marked you and encouraged you to choose this professional path?
« Dinara Mirtalipova, also a self-taught illustrator who grew up in Uzbekistan where she studied computer science before moving to the United States and becoming an illustrator. She too has a passion for patterns and stamps.
And also my boyfriend, who he himself is a photographer, videographer, graphic designer and designer all at the same time, with his unwavering support! »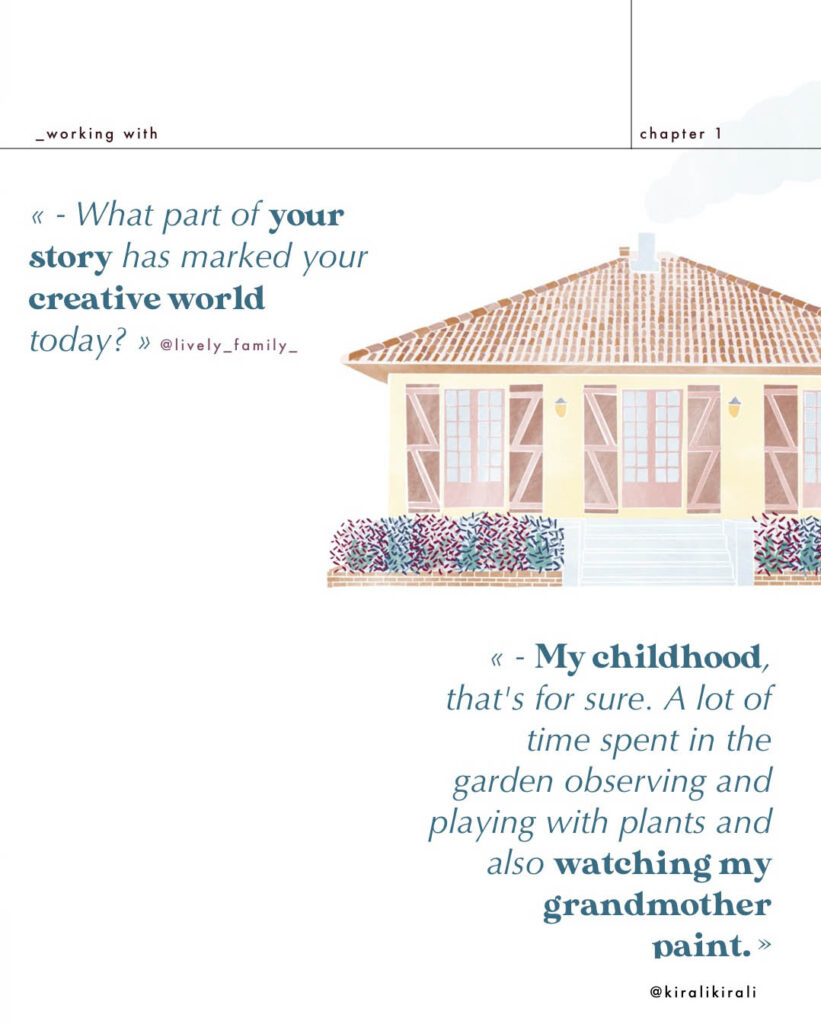 The herbarium:
« Wherever I travel, I put all the flowers and leaves I find in press and so I started collecting dried flowers. I am also gradually returning to watercolor, one of my grandmother's favorite mediums during my childhood. »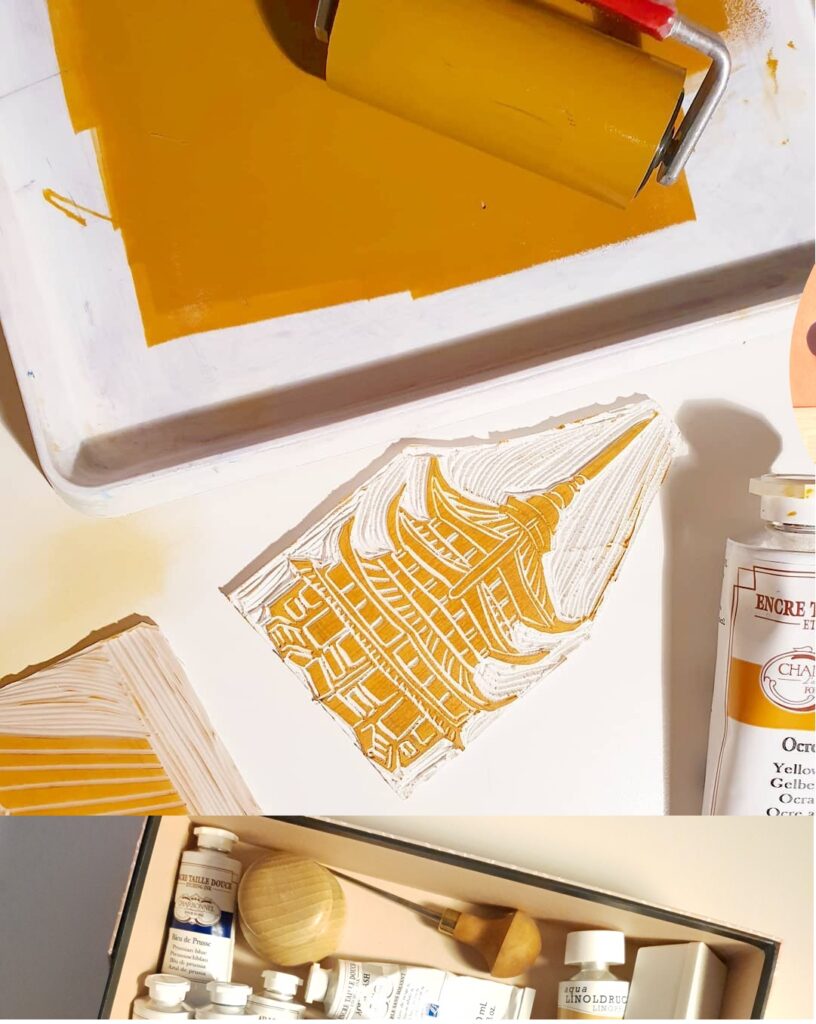 Linocut
"I can finally use my hands to create a visual piece from start to finish by shaping a raw material. I appreciate the process of Linocut in all its different stages. I enjoy the idea of not being a link in a chain, instead I am carrying out each step myself one by one from the initial drawing to the passage of the gouge and finally the printing, even if it means finishing with ink all over the fingers."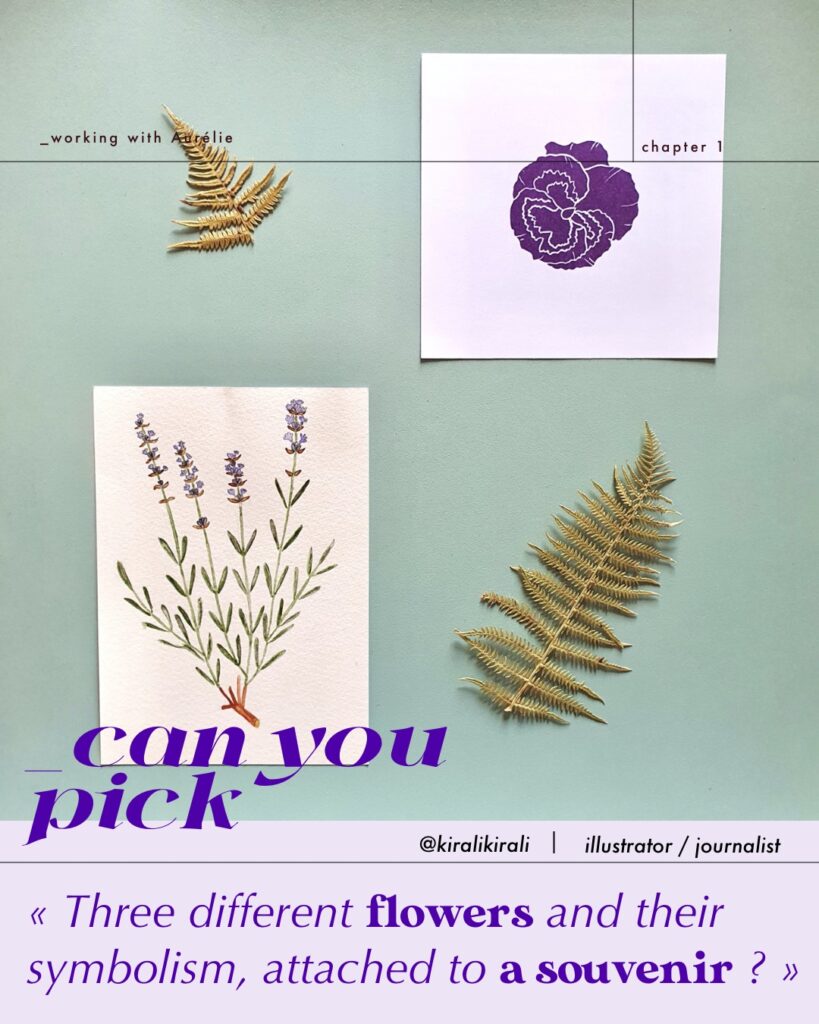 « Pansy (engraving):
For its symmetry, its resemblance to the butterfly (which it attracts!), Its kaleidoscope side which is a little marvelous because it is edible and perfumes a dish or a cocktail and finally because it's wild.
Lavender for (watercolor):
It represents my childhood, and particularly my grandmother's house in Normandy, which was called Les Lavandes. There were two huge clumps of lavender that surrounded the front steps, my grandmother wore lavender perfume and she peeled the flowers to fill fabric pouches to perfume the laundry. The fragrance lasts year after year, you just have to crush the seeds between your fingers. For me, it symbolizes tenderness and nostalgia.
Fern (dried leaf):
It reminds me of family forest walks, I find it fascinating because each leaf is made up of several branches of the same shape, which are themselves made up of several elements of the same shape. It is a symbol of the beauty and the complexity of nature; this is to me a metaphor for the dizzying aspect of the universe. It grows in the shade, as if telling the world that it doesn't need the light to make its own way. In Baltic countries, a legend says that the fern flower blooms once a year, at night, and gives magical powers to whoever discovers it. »