Inner space.
Chuting is from Taiwan, and currently based in the UK.
She was recently invited to be an artist in residence at the glass foundry Cotswolds.
Chuting states, 'I let the material and forms find me. I capture the moment of transformation that expresses my feeling.'
Chuting is a performance artist and maker, who's practise is centralised on narrative identity, through the exploration of cultural influence and conflict of self. Graduating from the Royal College of Art in 2015, where she specialised in Footwear Design, this time cemented her interest in traditional craftsmanship, which led her to delve into her own identity through the making process and develop an individual artistic language
_Into Lee Chuting space
Chuting was brought up in Taiwan, she currently resides in London.
She is constantly learning and evolving her universe, she is not scared to step out of her comfort zone and accept new challenges.
Her career started as a shoes and handbag designer she is now stepping into the art world, in this interview we will see some of her daily process and also her thoughts about becoming a mother as an artist.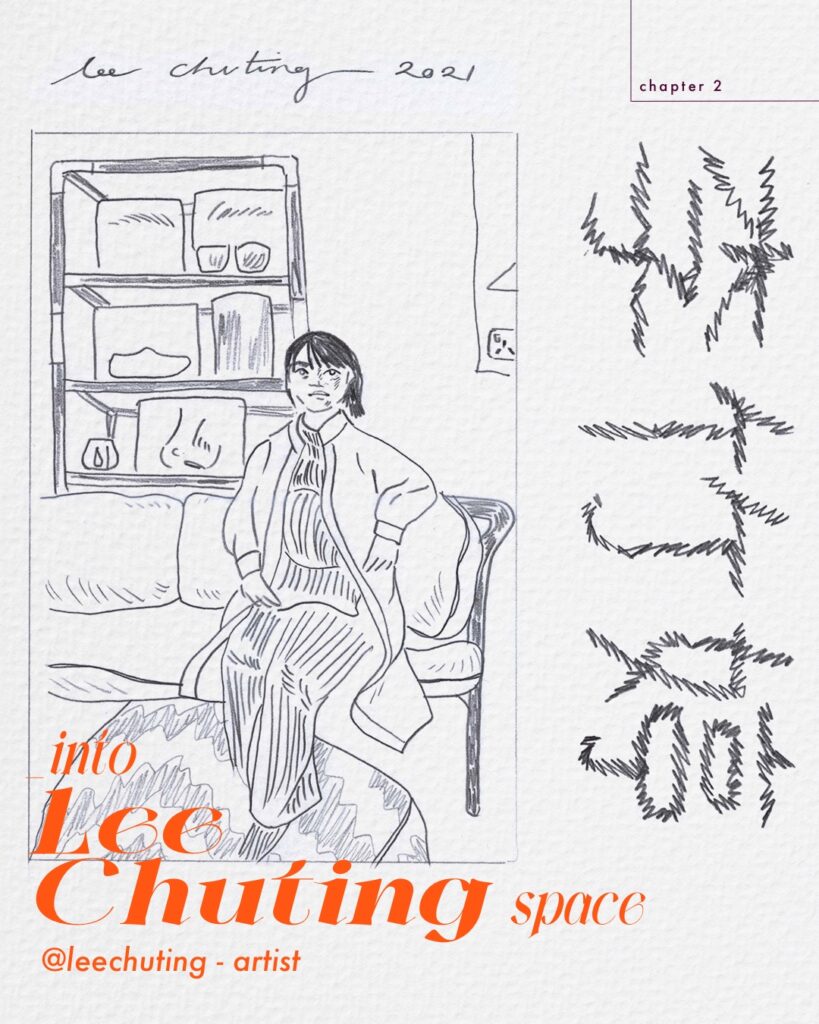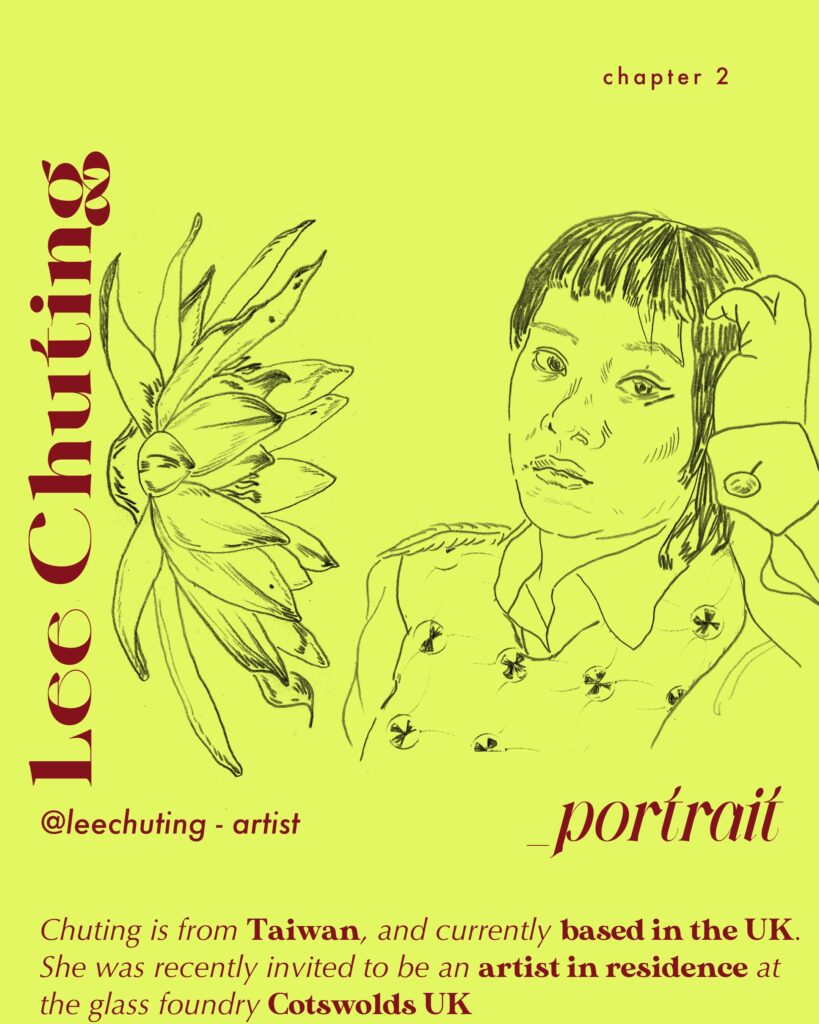 PORTRAIT
What is most important to know about you?
Hi ! my name is Chuting Lee I come from Taiwan and I'm an artist. I do paintings sculptures and performances with my craft. I come from a very traditional family. And I was a designer and I'm an artist now
Where do you think your creativity came from? A Family member or friend or Teacher or Just from practicing? 
It comes from… a lot from my practice that when I work with handcraft with my hands and then there's also a lot associates with the family the memory from people I love and then from… Any kind of things and that would make me put my emotions into my work. 
Growing up in Taiwan, what perspective does this bring to your art?
Make me feel like I have so much of a special and rich culture background with me, I can bring it back to the UK 
What themes do you work on? Do they pass on a message you want to share with your art?
When I'm making creates, so that I want to do, and it's very important for me, I put my feelings into my work.
But it really depends on how people take from it because everyone's from a different background. Everyone has different knowledge and then also it's very interesting to see what is people feedback and then that can make me think as well.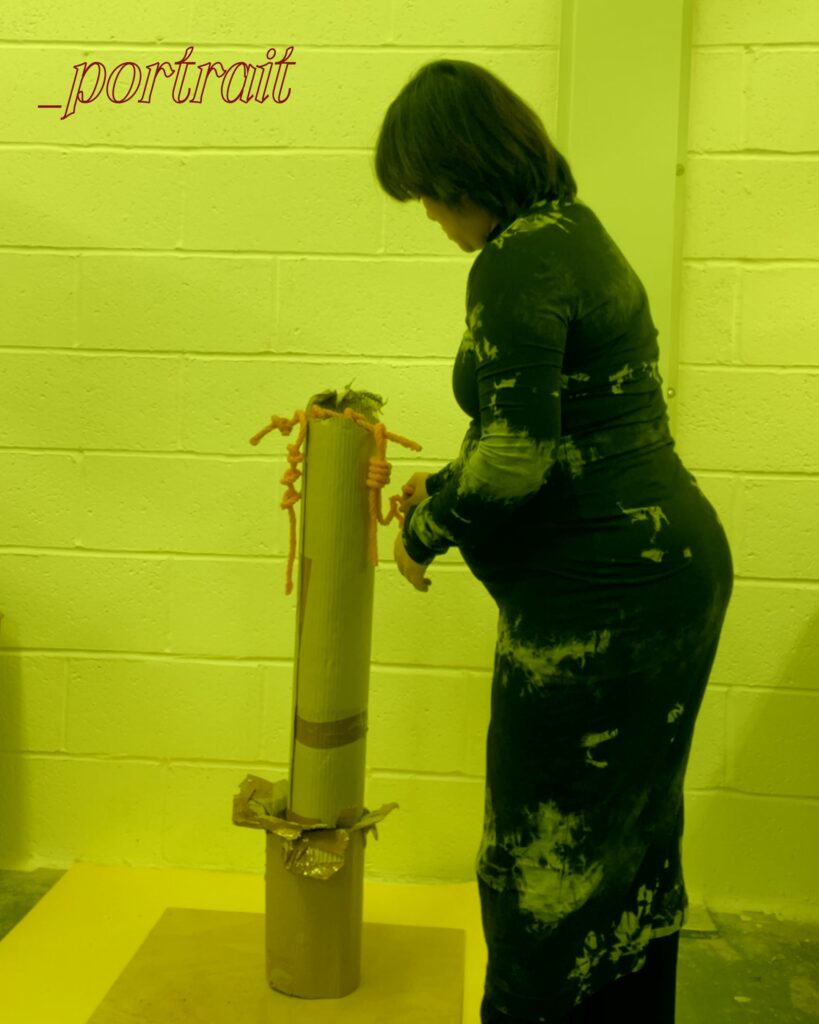 How did you change from accessory design to glass art and painting?
I think how I was trained was really unique and I can do everything I want. After I graduated I realized maybe I can be something more than designer. I worked for a company I designed shoes and handbags for four years and then I always serve people. After that period of time, I feel like I'm really want to put more attention. To focus on myself and to develop more about myself as an artist
What are the main differences you can find between the fashion world when you were working on accessories and the art world?
Working on the art, it's more like finding a way to serve yourself. Trying to like… Dig yourself deeply and then , you need to give the voice onto the work yourself. And then the things comes from inside of you.
You were invited to be an artist in residence at the glass foundry Cotswolds UK, what did you learn from this experience?
I learned glass casting and molding with wax and how to turn something that you want to copy and turn it into that.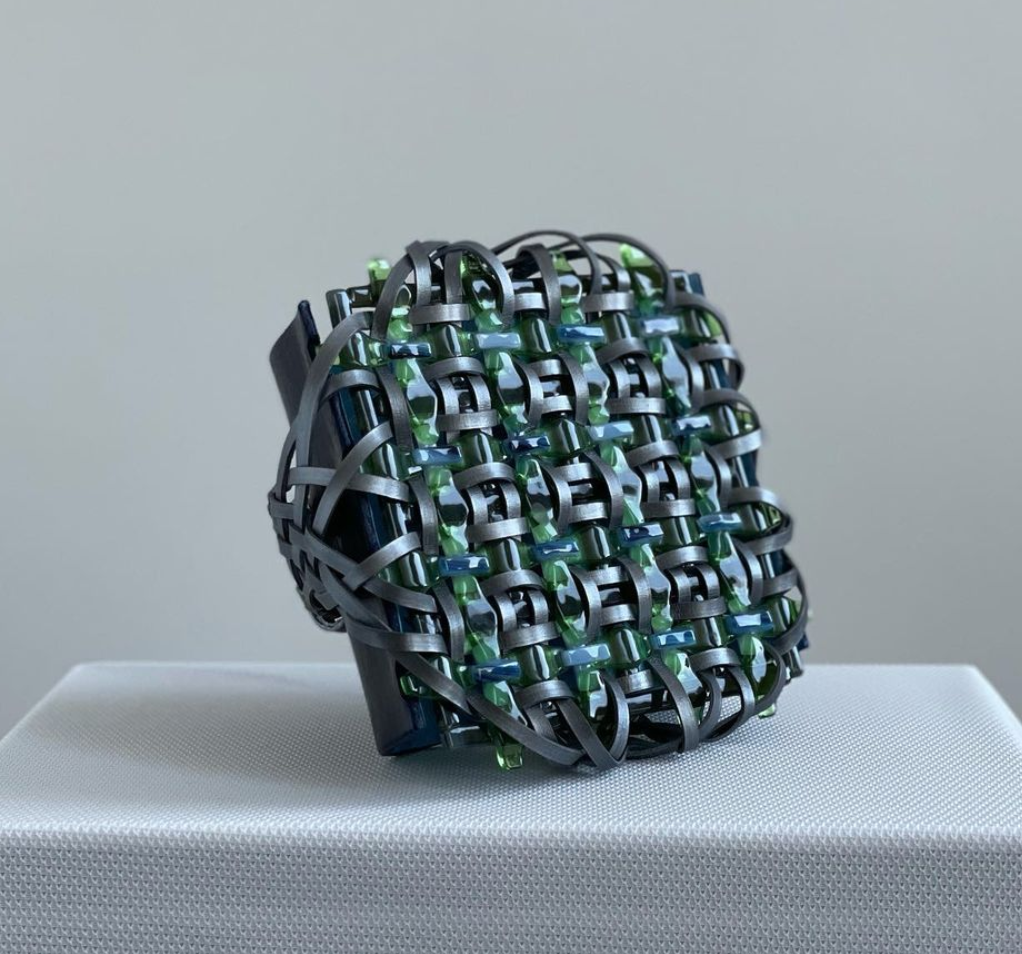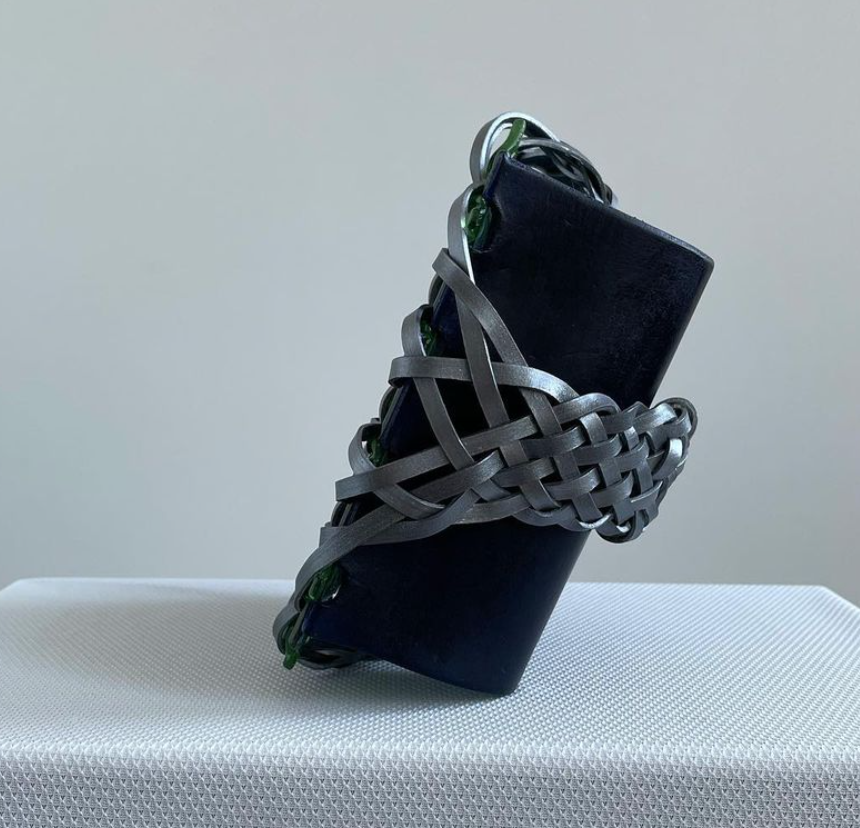 What inspire you before starting a piece?
I work a lot with the raw material and gather the materials that I am interested in.
And I play with my hands my intuition and mold it, twist it, and get inspired while I play with it
You are working with Glass, painting canvas and also working on handbag designs, how do you manage your time?
I just need to work and them on different time schedule and see if I want to work more and glass, or paintings… 
What is the last creative new thing you did?
Now I am working more and sculpture and learning to built my sculpture in larger scale, and that's a new thing for me recently
What is the importance of working in a studio space away from home?
It's very important because you cut everything off, from what you should be worrying at home or at studio
Do you learn from the other artist around you? Are they working on the same things as you or is it varied?
I am sharing wit six other artists and everyone practice is very different. I learn seeing what they do, learning a lot from different people, practice and life
Do you think the routine from your past full-time job helps you organise your time?
Definitely, I think being a designer really trained to manage what I want to do. Also help me think about how to accomplish the final object.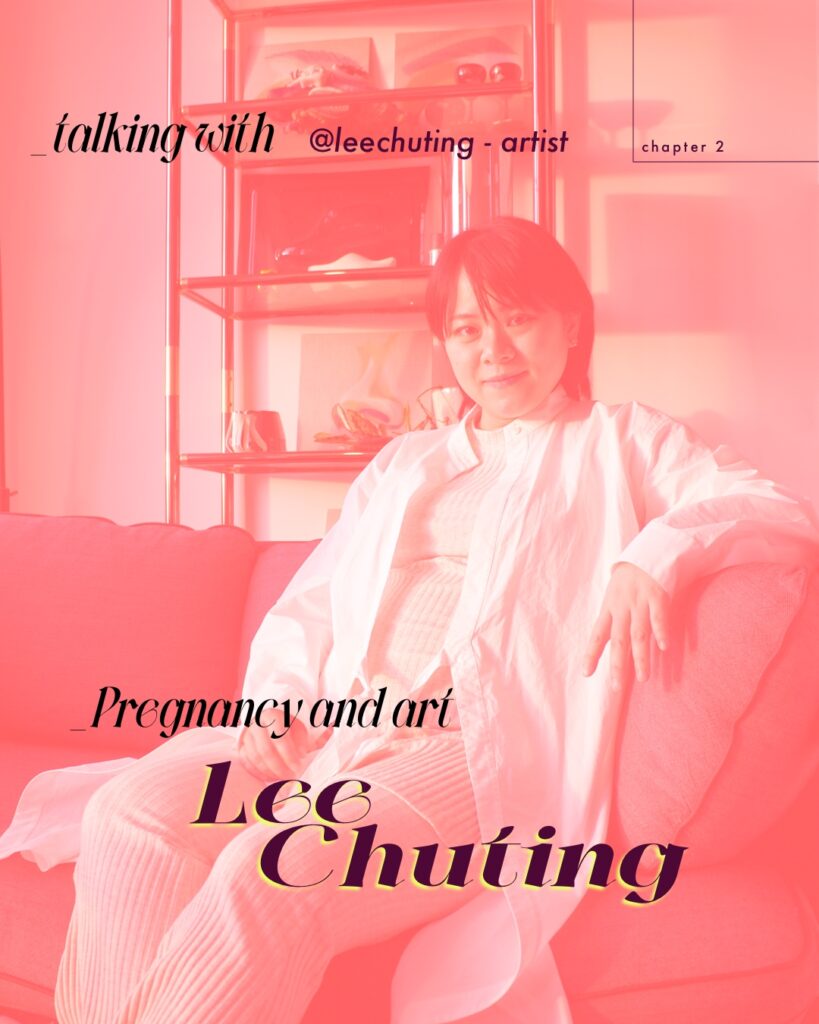 You are about to become a mother, do you think the will change anything about your art ?
When I found out I was pregnant. I didn't see myself would change anything for this, but I noticed people start looking at me in a different way. I became curious about this 'new tag' of my identity. As my belly grow bigger and bigger day by day. Feeling a little life dancing in my body everyday is quite a magic. I want to embrace this changing and throw my feeling into my work. This could be a good project for this year!   I know I have a lot physical restrictions and the need to take care of myself, but my brain has no limit. I might work less but smarter!
MUSIC
A song for getting in the mood to work?
To concentrate I listen to Bach
A song for traveling to your studio
I listen to podcast about art 
The baby's favorite song? 😊
I sing song to my baby, a cat song because I don't remember any song so I just sing a meow meow song.
A song that reminds you of growing up in Taiwan?
I remember when I was twelve or thirteen, I loved pop song Chinese pop song.
When I was little the most famous one was spice girl it was very popular
A song your husband introduced you to?
A lot of reggae style, and played it a lot
Something else you want to say?
I think art is a life time practice and I feel very bless that I can now spend more of my time to my practice now and that I will have more things to show you in the futur, soon 🙂