Images floating
into space
Clementine Blue is a French born visual artist and music maker based in Margate.
She presented her new album 'Floating World', a journey into the landscape of a spiritual Japan, inspired by her own solo trip.
Using field recording, sample and instrument, her voice rests on environmental sounds recorded in Japan.
"The title of the album Floating World comes from the translation of the term ukiyo-e (浮世絵) which translates as "picture(s) of the floating world"."
_Talk with Clementine
FR /En ce tout début d'année 2022, j'ai eu l'occasion de recevoir chez moi Clementine ponctuellement en visite à Paris.
Clementine, c'est ce un peu de genre de personne touche à tout, à qui cela réussit bien. De la video à la musique, de la musique à la photo argentique… Un univers – aux notes rosées – qui empli un espace, d'un charme fou et d'une atmosphère d'un quelque chose de spirituel.
Apaisé et apaisant, son dernier album « Floating world » nous emmène dans un voyage initiatique au coeur des routes de pèlerinage du Japon.
Music playlist
Suivez-nous sur spotify et découvrez la playlist de Clementine Blue, avec notamment son dernier album « Floating world » ainsi que ses dernières inspirations musicale.
Ici aussi, la playlist de Clementine pour la radio de Margate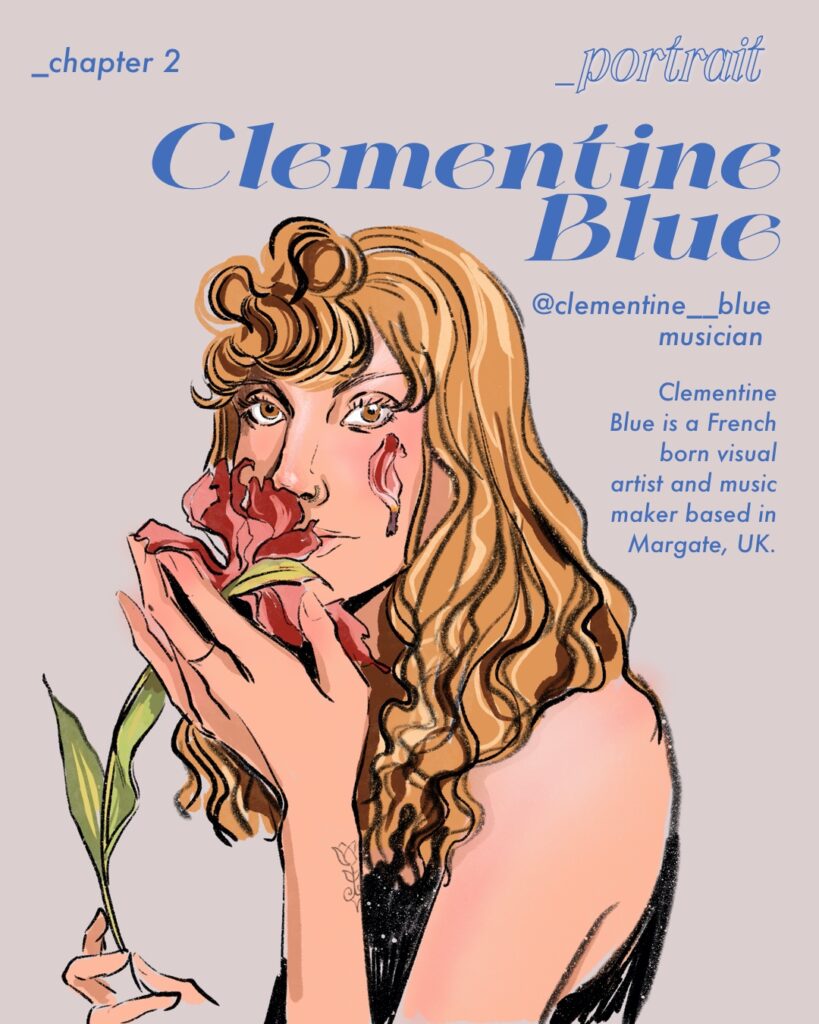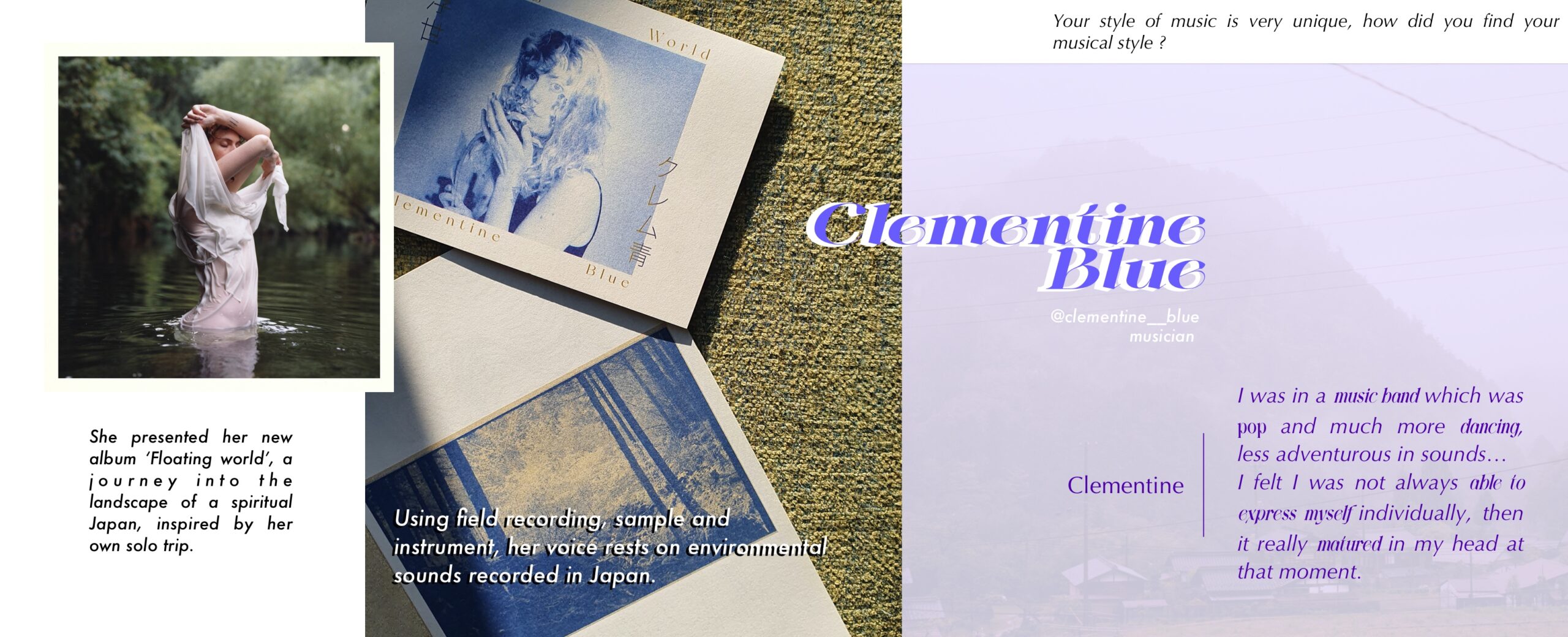 _portrait
Clementine Blue _musician
Where does your performance name come from?
'It's very simple, I like blue and that's the name I used on social media a long time ago. I kept it, and I think 'Blue corresponds to me. It's appeasing, and it's the complementary color of orange!'
Your music is very unique, how did you find your musical style?
I was in a band which was pop and much more dance, less adventurous in sounds..I felt I was not always able to express myself individually, then it really matured in my head at that moment.
The first aesthetics in which I was interested were 'desert blues', Tuared nomads, groups like Tinariwen, Terakaft…
They are nomads who started electronic music with something of a hypnotizing trance.
What attracted me first was to find a mixture between all the aesthetics of the desert, I liked the idea of having very acoustic sounds raw, natural mixed with very produced and artificial sounds, to have this collision of two worlds that do not meet naturally.
It's an idea that I had from the beginning which has evolved a lot, inspired from a range of environmental sounds to Indian music (I went on a trip for two months in India) the album is the result of a slow evolution.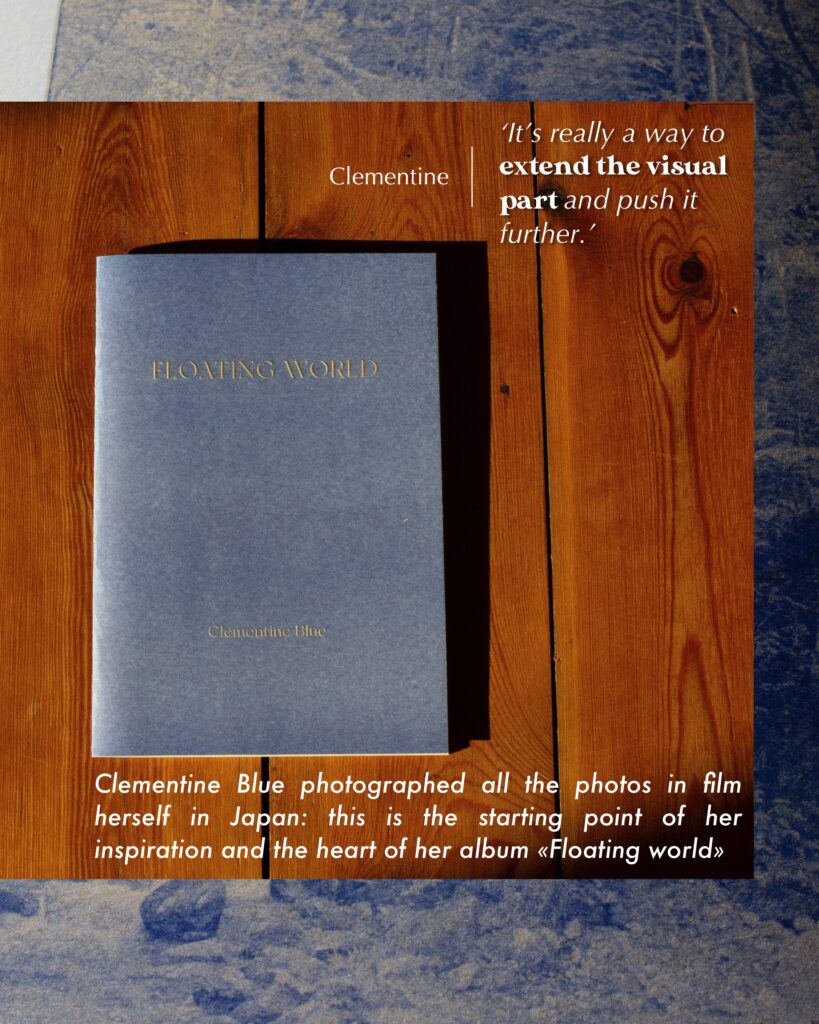 How did you find the idea of creating a booklet (artzine) to go with your album? And in particular using the technique of risograph?
I had already made an EP book in square format like small vinyl, and I liked the idea of making a photo book, a visual book that goes with a piece music. It's really a way to extend the visual part and push the concept further.
Risograph is a Japanese technique that was a way of photocopying at low cost. But it turns out that it is also an ecological way of printing as the inks are soy based and I liked the printing effect visually.
It's bit like printing a film photo, with grains, imperfections, and unforeseen things. I had no way of knowing what it was going to be until it was all printed out.
How did you start doing film photography?
More than 10 years ago, I wanted to get into film photography because I was starting to travel more with my band.
I got the camera that my grandparents had given to my parents who then gave it to me: there is something beautiful in it, an object that remains from generation to generation.
It's also a coincidence because this camera had a 50mm lens that I really liked, an accident that in the end can define me on a whole project, in the end I'm just trying to have fun with it.
Clementine Blue photographed all the photos in film herself in Japan: this is the starting point of her inspiration and the heart of her album 'Floating world'
How did you get inspired by Japan in particular ?
First, I fell in love with Miyazaki's movies a long time ago, as something inexplicable I felt very attracted to this country.
I think I am very attracted to the refinement of this culture, a celebration of beauty and harmony which I feel is a true philosophy of life.
I wanted to go to Japan to learn. As a lesson of humility to imbue me with a world and a culture that would be very far from what I already know.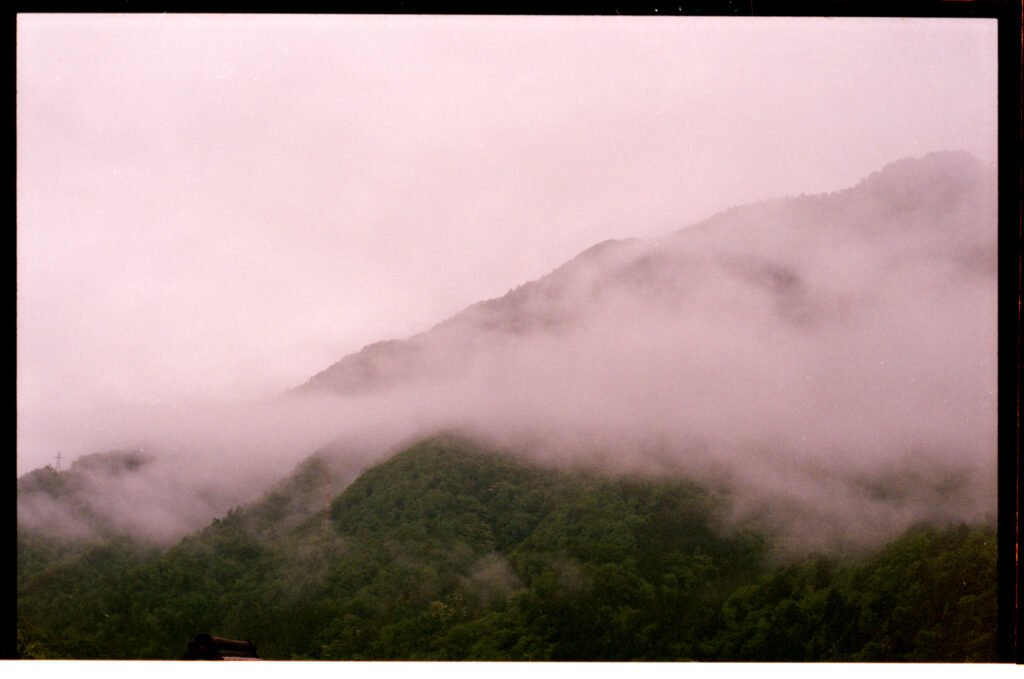 What in particular did you try to translate from your trip inthis album?
There is something a little bit spiritual in many of the photos that I took during a pilgrimage journey.
I went to a place in Japan called Mount Koya-san, in the city of Wakayama.
This is a place that a few people told me about where a branch of Buddhism was founded. There is a huge temple and a monk cemetery.
It is a mountain that is in the middle of a lotus flower formed by other mountains around.. So there is a pilgrimage path that I was able to make in the rain in May 2018.
I also did a piece of the nakasando road in the kisson valley, an old road that goes from Kyoto to Tokyo with stops called 'post towns' some villages have really remained intact.
Pilgrimage routes are something I would like to develop, explore and document.
Document in film photography and take an interest in the plants more specifically that are on these paths, and concise these paths as a kind of collective memory. So many people walk these roads, I'd like to approach it from this angle.
Before going to Japan, how did you see Japanese culture?
Bashô's Haiku: Someone gifted me a book of Bashô. It is a book about a pilgrimage along the seasons.
Hokusai: He is a huge reference for me for his aesthetic. I remember visiting an exhibition about the 36 views of the Mount Fuiji. The Ukiyo-e aesthetic, 'pictures of the floating world', that's where the name of the album comes from, I find that this pretty much transcribes the aesthetic of the music. It's a visual universe that moves me. A delicate way to paint nature, animals, landscape and feminine beauty. But also, about leisure and pleasure.
I like all the anecdotes around Hokusai, he is a mischievous character.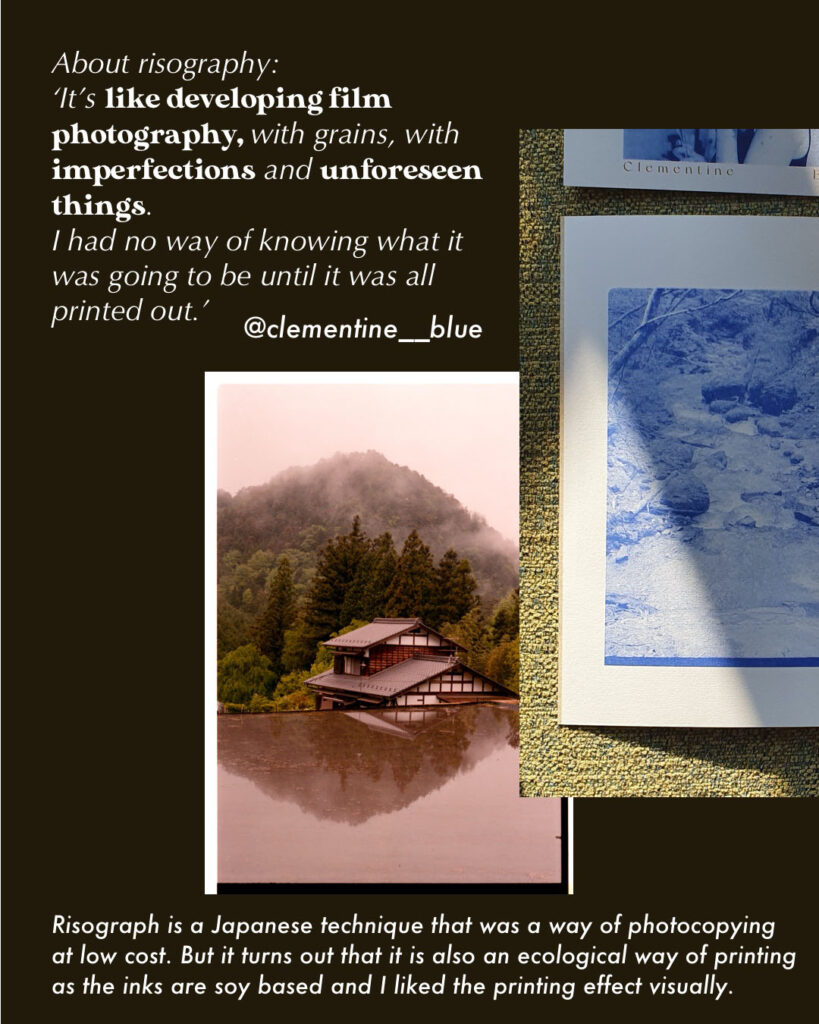 _BIG SPACES
What is your relationship with nature?
I grew up surrounded by nature in quite isolated place.
I come from the countryside near Anger, France and my parents lived in an unusual house, a kind of manor, but it was quite rock and roll to live in without central heating,
there was a lake, poplars, weeping trees… It was an extraordinary childhood.
I lived in London for 3 to 4 years, but it's really a relief to have moved to Margate in a quieter place, where I can walk and see the sea…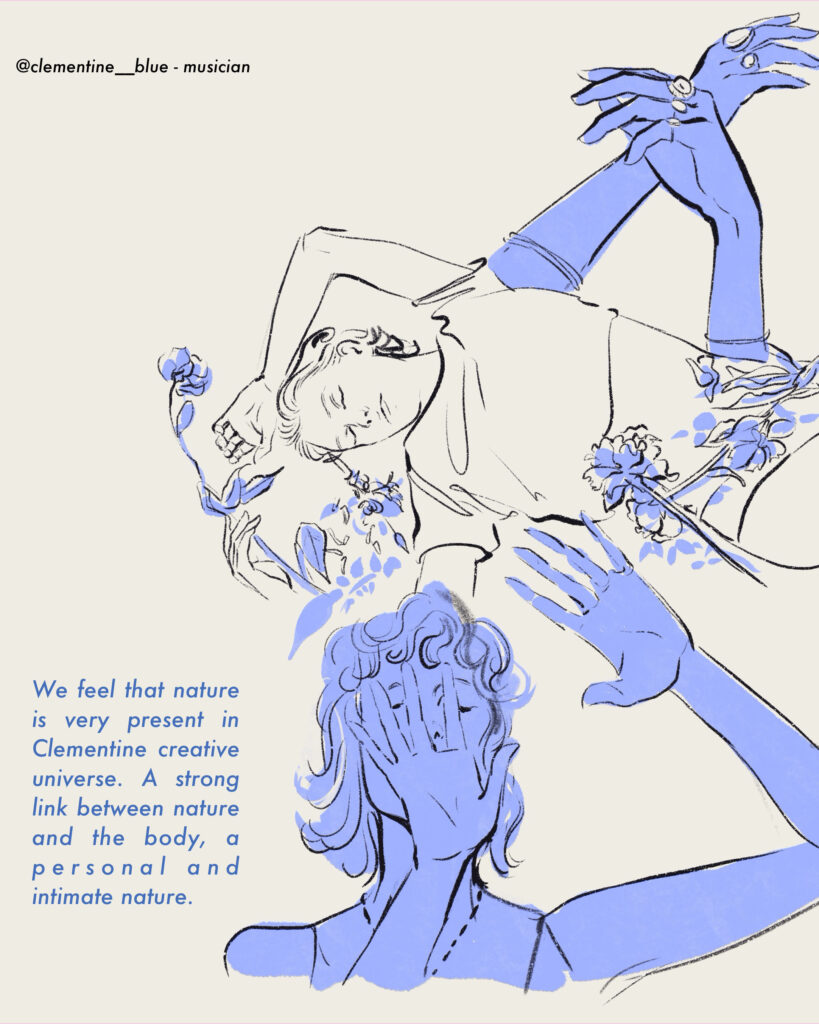 We feel that nature is very present in your universe, we feel the very strong link between nature and the body, a personal nature in large spaces but very intimate at the same time
There is for me a very close relationship between the body and the landscape.
I made a photographic project called 'body- landscape', photographs of female bodies in parallel with nature, I wanted to find a dialogue and a relationship between the two.
When I take pictures of naked bodies, I am in search of purity, of desexualizing the female body and looking for aesthetics where people might say "I have a body too" try to normalize instead of trying to hiding it.
What moves you in an artistic project?
I think going somewhere and trying to link my trip to an artistic project, to bring something back from it.. traveling is essential for me.
Afterwards, being in confinement was a kind of inner journey for me too. You have time.
I have a few recordings during this period of things not really finished. It allowed me to disconnect a little and not think about sad things.
The lockdown was a time when I had a slightly simpler life, without forcing it, going to the market, cooking, enjoying the moment.
You are often inspired by travel, what was your mindset when you decided to travel alone to Japan?
I lived in London and found it very suffocating.
And when I left for Japan, I was coming out of a tour or I had been in a van for 2 weeks.
Flying to Japan alone was a kind of liberation: I will finally be able to hear myself think and go to places where there is silence and beauty.
In Japan there is a language of sound very different from Europe: the sounds of birds, different songs, insects… I had this desire to go towards something that I did not know, to go into the forest and record sounds and take pictures to document it
.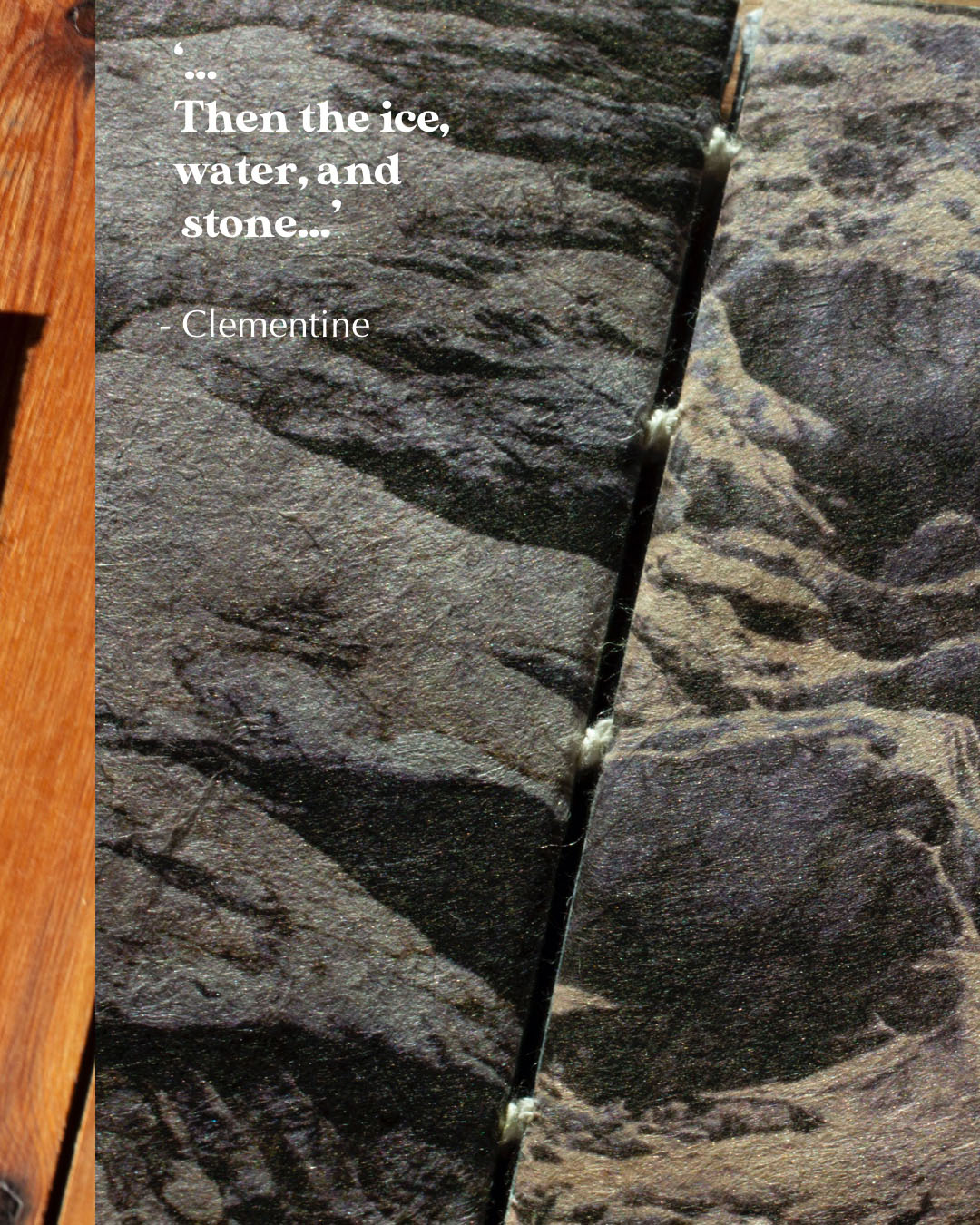 _ZERMATT
The project Zermatt is very immersive, almost a translation project. From the place to the photography of Josef, then from Clementine's point of view what she sees of Josef's images, to translate it in sounds, music. Several steps that give depth to the history.
Zermatt is a place in Switzerland where my friend Josef comes from.
I fell in love with his photos, it has something sensorial, playing with texture of the landscape.
I feel like he wants to show us something else in the landscape, and I feel like I can hear those textures in sound.
He made a book of his photography, and I offered to register him a soundtrack following the track of his book.
It starts in the forest, then we go higher in the clouds, then we go enen higher in the clouds, climbing to a summit behind the clouds, then the ice, water, and stone…
I took sound I registered in the Alpes, a bell sound of an Alpine cow, sounds of ice, altering them to give something ethereal.
Josef took me to visit again this magical place a few months later and I was able to photograph/see with my own eyes these spaces, giving a feeling weightlessness.
It took my breath away! I felt alive. In this space that I had imagined, observed on the textured paper of this small book
It's really a very pictorial place
My interpretation of space would be the BIG, the great spaces where you see the horizon, where you can walk without stopping and feel yourself to exist in the world.
Here with Zermatt the space made a journey, from place to book, from book to sound, then back into this mountainous landscape to capture other images.
What is next for this project?
I think we're going to do a collaborative book about a place in Switzerland where it came from.
I would like to make 'an album for a glacier'.
To come back to this place, the loop was really closed and it could continue with the love around the aesthetics around Zermatt, very strong as place, you are at the middle of these mountains and this glacier, you feel both high and at the same time very small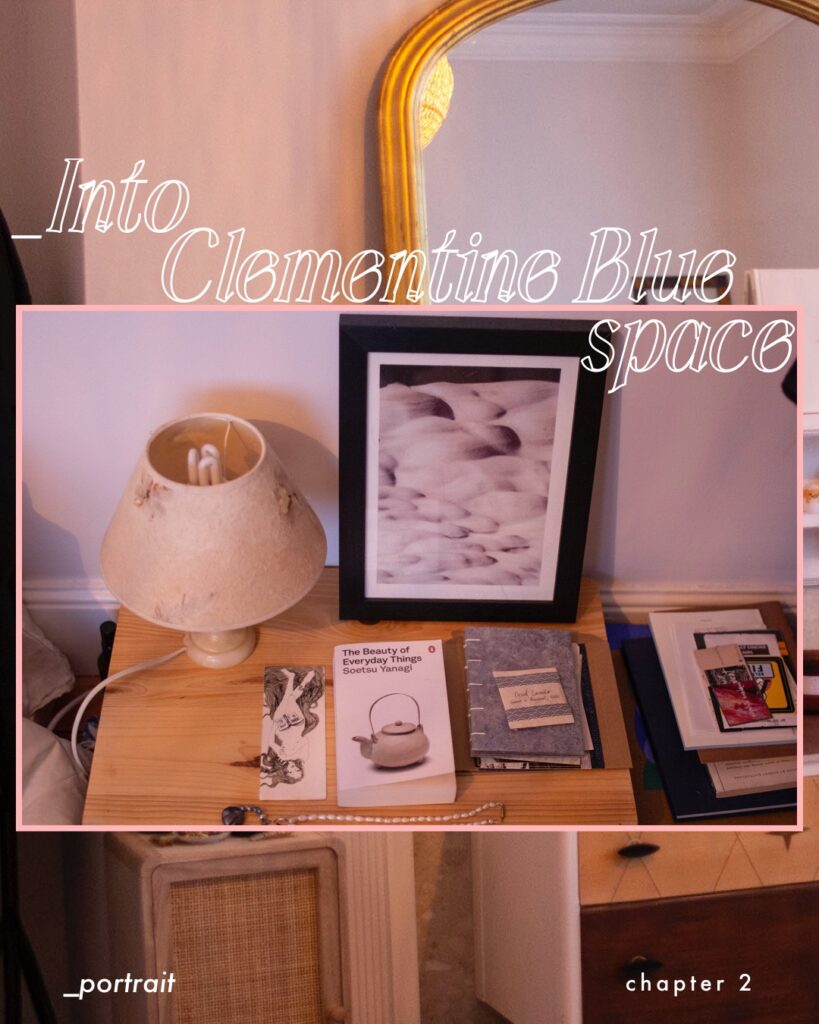 _SPACE
How did you choose to live in Margate?
I lived in Brighton on the coast, and then London… I started to miss the sea very much……
I now have my apartment in Margate, for the first time I can really arrange the space in a very personal way.
I find it important now that I'm in a fixed space: I have this real desire to connect with local people in Margate. It's just a 5 minute walk to go to the risograph printer, I enjoy working locally.
You do a lot of different things including video editing… Do you always work from home?
Yes, and the bedroom is the place where I create, I make music, I scan my film…the space is big enough to work here. The video editing is one of my main sources of income, I like it, it is essential to finance the personal projects that I really care about
This is where I make music, I can install my keyboard controller on the bed, my moog, I also have a casio.. I can make myself a station to record..
Music and space.
For this album I was recording the demo by myself, and at that time I was with someone who was very good at mixing and production, everything that is color, arrangement ..
This album was made from teamwork, even though I wrote the songs, the base.
Now I try to find other ways of working that force me to rely less on someone else's technical knowledge, to learn more and master synthesizers. It is very satisfying.
Now I'm all alone in this space, and I think that the music I would like to make in the future will be a mix of instrumental and singing, and I think I will also develop another way of working, more minimal and purified.
What kind of project did you create here ?
I had been asked to create a musical piece inspired by a tree.
I was inspired by a cherry blossom and I spent an afternoon making loops, small improvisations and that is the kind of thing I did in this place. Here I do more introspective instrumental trials, and I am trying to push what I learn about the synths I have, it puts me in my own little bubble.
What is important for you when you work?
I like to be in a very reassuring environment to work where I have everything close by and I can go lie down on my bed when I want to take a break.
I work in small doses, I need to go for a walk to take breaks. Walking is very productive for me, it's where I have ideas, when I'm in motion, my unconscious mind brings me ideas.
How do you build your personal space, in your home?
Objects that are not new, I love the imperfect side in the old objects, the acceptance of imperfection;
I think it's important for me to be surrounded by natural materials like wood and stone, I find these materials very relaxing.
It was Marion Marty who made these birds, a ceramist,
there are pictures and literature that inspire me. A great book by a photographer who documented a deer pilgrimage in the snow in Japan.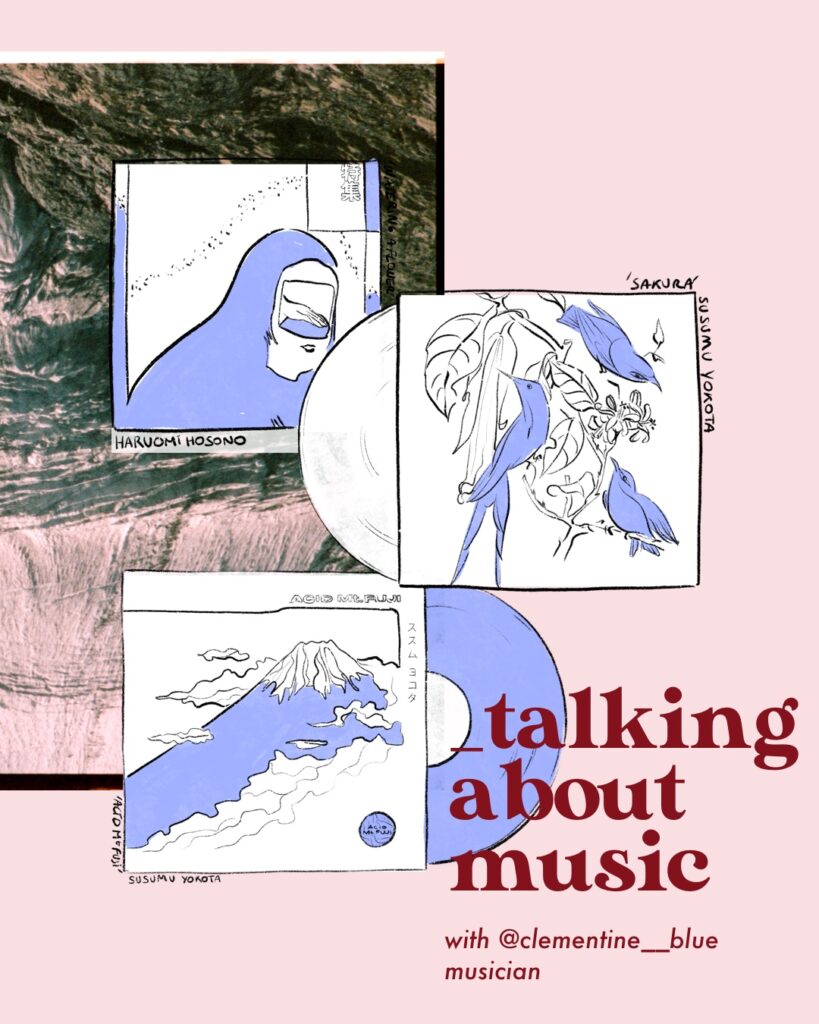 _Japanese ambient music
An interested in Japan lead me to discover Japanese ambient music
or "environmental music". The 80s economic boom helped to get commissions for music soundtracks for advertisement, corporate buildings, shopping malls… It's a type of music that is supposed to fill space in the background and be quiet.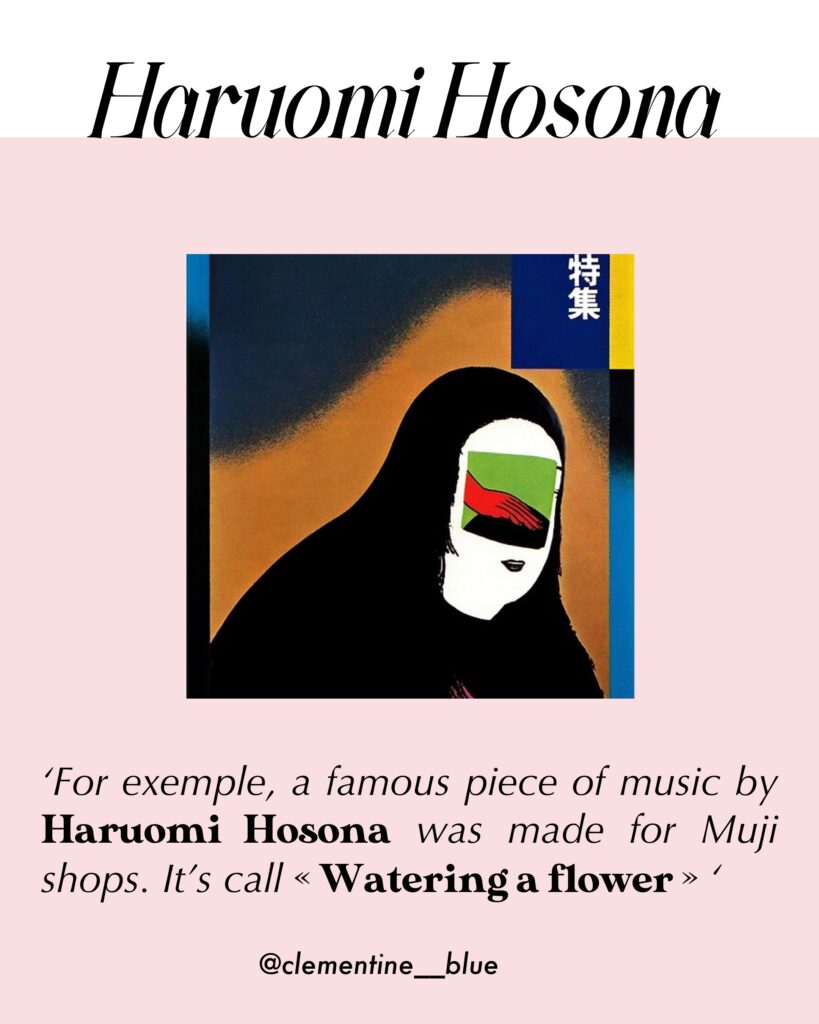 For example, a famous piece of music by Haruomi Hosona was made for Muji shops. It's call 'Watering a flower'
On artist I particularly like is Takashi Kokubo: one of his songs was edited again in vinyl but it was created for an advertisement for an air conditioner! He is for me the top of ambient music from those years.
Susumu Yokota, during the 80s and 90s is an artist who was prolific with many albums mixing field recording, percussion, sample and repetitive music.
Notably the album 'Sakura' which is both strange and soothing which pleases me with its ambiguous side. Also the album called 'Acid mont Fuji' which is really cool and a little more, acid…
It's back in fashion for people who like to collect rare vinyl.
If you had to give us 3 musical inspirations of the moment?
– A Japanese woman called Ichiko Aoba, she sings and makes music with her nylon guitar. It's very relaxing and clean. She is obsessed with water and her album is a story of someone arriving on an island… very inspiring
– Kelly Lee Owens, an English electronic music artist, I love the feel of these arrangements, and I think she influenced me a lot on Floating World
– In ambient music, I am inspired by a Frenchman based in Grenoble who has a project called 'Vague Imaginaire'. He makes incredible music, inspired by nature & landscape and is also a gardener.
One more word?
I hope this year to be able to develop a collaborative project: to create a piece of music in collaboration with a Japanese musician who mixes analog synthesizer and koto.
I think it would be a way to go further into my interest of Japanese culture
It would be a way to develop floating world that would be like a research and artistic continuity of the album to learn from someone and create cultural bridges in a more concrete way.